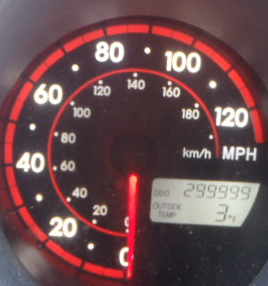 I have had many complaints on the 2003-2008 Toyota Matrix and Corolla Speedometer clusters.
The digital speedometer stops at 299,999 km or miles and won't roll over to 300,000 km or miles.
Many dealers say you need to buy a brand new cluster that will cost you over $500 to fix this problem.
Prospeedo charges $200 plus shipping to fix the same problem.
Ok so the big question I get asked is why won't it roll over to 300,000 Miles or KM?
Let me try to answer that question for the guys that wish to know. Please note: This sample is on some Toyotas not all

Notice the hex codes in the eprom file on line 0 and 10, the first picture shows you 299,999 km or miles it won't matter
Now lets see what should happen when it rolls up to 300,000 km or miles

As you can see for yourself, the math that they have chosen is such a drastic change from where it was that it will not roll over.
This sample above is not a cluster issue like many think, this is an eprom problem and faulty chips on board as for Chrysler and Dodge will run the same math and hex codes on some of their speedometer clusters  as you see in the pictures above and will have no problem rolling over to 300,000 km or miles.
I have had many emails from guys telling me that Toyota might have designed it to fail at 299,999, I can tell  you I have fixed many past the 299 problem but have also found many more other ones that have been shipped in that will not work and 100% they will not roll pass the 299,999 mark on the digital display seen on cluster. It will register in the eprom past 300,000 but it will not display in cluster anything over the 299,999. So to answer the question yes! on some it is designed in the flash file to stop at 299,999, and will not display in the digital readout anything after that point. Again let me repeat this, some Toyotas will not let the digital readout  display anything after 299,999, it will register in the eprom but will not display on cluster. I hope this helps answer some of your questions many had on these Toyota speedometer cluster problems. Thanks.  Take care. The Pro!