Prospeedo 2023 20 Ave, Bowden, Alberta, Canada Zip: T0M0K0
Email: prospeedocanada@gmail.com
Prospeedo has been fixing digital speedometers and digital instrument clusters for 24 years now.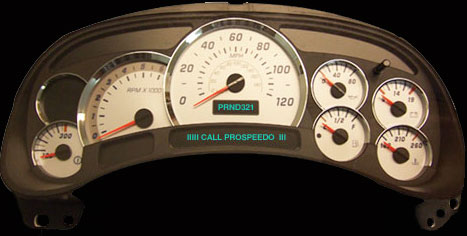 UPDATE: Chevrolet GMC Speedometer 2003 to 2006 Gauge Problem has now become a bigger problem!
Has anyone noticed there are hundreds of Speedometer shops now online advertising to fix your chevy gauges, mustangs or anything else they see on Youtube?
We now see everything  from speedometer wizards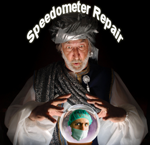 to speedometer doctors trying to make a quick buck off the general public in this industry only to make things for worse then for better.
What's next speedometer clowns?.

 Free Balloons 

 if you let us work on your speedometer cluster. Get Serious People!
Do you really want someone doing exploratory surgery wearing a mask and surgical gloves using a kitchen fork and scotch tape working on your digital speedometer? Prospeedo doesn't wear a mask. We don't need to hide behind our work and we don't use tape to re-calibrate your needles.
Looking at quick free low buck Youtube fixes and buying stepper motors and lights from eBay to fix speedometers takes zero knowledge.
Joey's magical $25 fix and he has done lots won't cut it very long in this industry.Will come to you, nobody beats are price? yea ok!
Using a fork to remove your needles or tape to re-calibrate them? Come on guys really! Please get serious. 24 years or 24 months? you decide, the math is simple. Call the Pros!
Lets set the records straight, Prospeedo has been fixing the 2003 to 2006 Chevrolet GMC stepper motor problem, digital display problem and light bulb problem for over 12 years now. Its nothing new to us. For more information in regards to Instrument Cluster removal for the 2003 to 2006 GMC Chevrolet Trucks Suvs etc. Click Here!
Prospeedo works on 1999 to 2021 Digital Speedometer Instrument Clusters
Prices will vary on Year of Speedometer Cluster, Hour Meter type, job needed done and complexity. See simple price quotes below. Prospeedo has been fixing Digital Speedometers for over 24 years, we work on anything from Vehicle Speedometers to Motorbikes, Snowmobiles, Quads, Farm Tractors, Dozers, Big Rigs, The list goes on and on etc.
All packages that we get in go out the same day as we receive them, everything is sent through Fedex Overnight.
Please Note! You must print out our Speedometer Repair Disclaimer Form below, please fill it out and sign it. This must be included in your package when sending it out to us. When sending to Canada mark down on paper work it is a " Used Circuit Board For Repair and Return Only!  Value to be no more then $20.00 Thanks. If you have any Questions just call anytime
Payment Options:
We accept Cashiers Check, Money Order, Paypal only, made payable to Prospeedo.
Price List. Instrument Cluster Repair Cost
All Domestic and most import prices below, Please Note! All German made Instrument Clusters start at $500.00 and up. Please call to confirm price quote regarding fixing higher end Instrument Clusters . Thanks
 Head Office: 403-809-3903 or Toll Free 1-800-277-9269
Speedometer Repair Cost Year 1992 to 2006  $285.00 CLICK ON ICON BELOW
Speedometer Repair Cost Year 2007 to 2011 $350.00  CLICK ON ICON BELOW
Speedometer Repair Cost Year 2012 to 2016  $425.00 CLICK ON ICON BELOW
2003 to 2006 GMC, Chevrolet, Gauge Repair Complete Rebuilt $200.00 plus shipping
2007 to 2013 GMC, Chevrolet Tahoe Digital Display Fix $100.00 plus shipping
2003 to 2006 Gm Speedometer Gauge Repair 10 Minute Local Fix, One Coffee and your done $200.00 Cash Complete Rebuild. Call us
2007 and up Chevy Digital Display Fix 10 Minutes of your time Local Fix $100.00 Light Bulbs Out? No Problem $10.00 Per Light Bulb
Cant See Display? PRND321
Gauge Stopped Working?
We Can Help! 25 years in Speedometer Repair and Instrument Cluster Programming. We fix 1999 to 2021 Digital Speedometer Clusters. Same day turnaround on packages sent in.
Prospeedo
 2023 20 Ave, Bowden, Alberta, Canada, Postal Code or Zip  T0M 0K0
Call 403-809-3903 or Toll Free 1-800-277-9269
Prospeedo.com SIMPLE!
.SUPER FAST SERVICE
.SAME DAY TURNAROUND
.NOBODY BIGGER
.NOBODY BETTER
.NOBODY LARGER ONLINE
.25 YEARS IN FIXING DIGITAL SPEEDOMETERS
.20 YEARS ONLINE
Yes! we can Program the Original Mileage or Hours that is to be displayed back into your new or used Digital Instrument Cluster, Hour Meter or any other Digital Display Gauge you are working on that needs to be fixed
We can put the original miles back into most Digital Speedometer Clusters
Stop! We Can Program Most 1992 to 2014 Digital Speedometer Clusters, No need to Zero out Miles and then TMU because nobody could help you. Call us first before others tell you we can't program your original mileage back into your new or used cluster.
Keeping it Simple! Prospeedo's World Wide Professional Speedometer Repair Service
Why Wait? Fix your Broken Digital Speedometer Cluster Today. Call Prospeedo. Bowden Head Office: 403-809-3903 Toll Free 1-800-277-9269 Email prospeedocanada@gmail.com
Office Hours: 10am to 3pm Monday to Friday, Saturday and Sunday by appointment only!
BUY SELL TRADE WANTED? CHECK OUT THE NEW ONLINE CLASSIFIED ADS MADE SIMPLE FOR THE AMERICAN AND CANADIAN MARKET  WWW.BUYSELLTRADEWANTED.COM
Prospeedo: 2023 20 Ave, Bowden, Alberta, Canada, T0M 0K0
Toll Free 1-800-277-9269 Bowden Office 403-809-3903